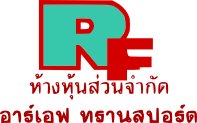 R. F. Transport Limited Partnership registered on November 21, 2537 with its head office located at No. 58-59 Moo 4 in Krok Phra District in Nakhon Sawan Province.
Its core business is Road Freight Transportation. Most of the products R.F Transport service is cement and mineral production.
R.F Transport Limited Partnership share supporting facilities including repairing, painting and assembling garages with Nakhonsawan Tungprasert Company Limited.